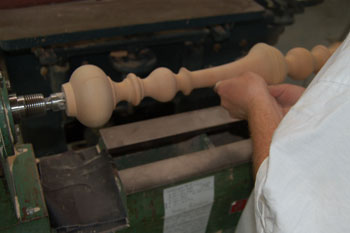 Thank you for taking the time to browse our web site. We hope that we will be able to provide you with all the information you will need so you may have an enjoyable time while you are here.
The Hickory Frame Corporation is a small, very unique and well established "family" company which has been run by third-generation members for over 15 years now. In our new 110,000 square foot facility we manufacture the finest "premium quality" components. Our components are produced from the finest materials available, for a wide range of consumer and furniture/cabinet related industries.
Since the very beginning in 1972, the Bechtel family has had a strong love and desire to always produce "truly" top-quality products at very reasonable prices. With this being our goal, it has not been easy for us to do in today's, everchanging, global marketplace, but has gotten somewhat easier over the years due to the large investments made by our family.
One of the major reasons for our success over the years has been due to the "old-fashioned" way we do business. Every single customer is equally important to us, whether they order one component or a thousand. We value and honor your business and will do what ever it takes within our means to satisfy you, whether it be a repair, replacement, refund or credit on your merchandise. Your satisfaction is 100% guaranteed.
We appreciate your comments and look forward to serving you.
Sincerely
Jeffery Bechtel Jr., President