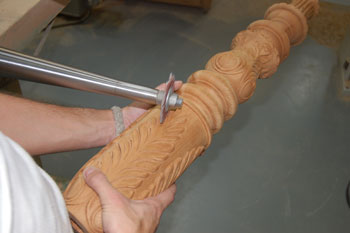 Do You Need Custom Components?
Our industrial design capabilities combined with state of the art computer controlled, conventional machinery and the many years of experience offered by our personnel enable us to produce nearly any component you desire.
From conception through production, we can make your design a reality with the aid of over 250 individual production machines housed in our new Lynchburg, VA plant, however we do have minimums based on style complexity and adaptability to our equipment. Please call or e-mail today to see how we can assist you and work towards your success.
• We can reproduce, from an existing piece!
• Work from a sketch!
• Use your CAD drawings!
• Design from scratch!
Please forward your questions, sketches, CAD drawings and or ideas to the link below and a Hickory Frame representative will contact you regarding your project.